Updated February 27 2013
Edenton Calls on Regional Small Schools for Two Hitters
EDENTON, N.C.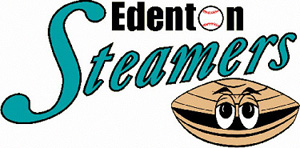 The Edenton Steamers of the Coastal Plain League announce today the addition of two North Carolina natives to the 2013 roster. Catcher Daniel Whitecavage and outfielder Josh Catalano will play for the Steamers this summer.
Hailing from Huntersville, N.C., Whitecavage makes the trip to Edenton from Saint Andrews University (NC) in the NAIA Appalachian Athletic Conference. He bats and throws from the right side and is serving as a middle-of-the-order bat while splitting time behind the plate and at first base for the Knights this spring. The 6-0, 205-pound junior spent his 2012 summer suiting up for the Lake Norman Copperheads in the Southern Collegiate Baseball League. His .374 batting average was good for third in the SCBL and the rest of his slash line was an impressive .447 on-base percentage, .618 slugging percentage and 1.065 OPS. His 15 doubles, five home runs and 33 RBIs ranked him first, tied for third and second in the SCBL, respectively. He added nine walks to only 11 strikeouts in 123 at-bats over 36 games last summer, earning himself an all-star nod. So far this spring, Whitecavage has led the Knights to a 9-1 start with an OPS over 1.100 and has yet to strikeout in 37 plate appearances. He is an offensive-minded catcher who has been a force the last two summers in the SCBL and he gives the Steamers another slugger that controls the strike zone extremely well. Coming from a small regional school, the Steamers like his established wood-bat track record and he should be a great fit for the teal and black this summer.
Catalano joins his fellow North Carolinian from Chowan University (NC), a member of the NCAA Division II Central Intercollegiate Athletic Association. The 5-8, 185-pound junior outfielder bats left, throws right and calls Clayton, N.C., home. This spring he is patrolling center field and serving as the Hawks leadoff hitter. Catalano looks to build off his 2012 spring in which he earned a CIAA First Team All-Conference selection and through 15 games this spring is batting .321, has an on-base percentage of .367, a slugging percentage of .446 and an .813 OPS. In 56 at-bats he has hit four doubles, one home run, worked four walks and struck out only six times. He is built strong and fast, very similar to a running back and has the ability to play center field. His surprising power and capability to steal a base allow him to bring different things to an offense and he possesses the gritty on-field makeup the Steamers value on their roster.
Every year the Coastal Plain League has players come in from small schools that end up making significant contributions to their teams' success on the field. This summer the Steamers look at Whitecavage and Catalano as candidates to do just that.
The Edenton Steamers are a proud member of the Coastal Plain League, the nation's hottest summer collegiate baseball league. Celebrating its 17th season in 2013, the CPL features 14 teams playing in North Carolina, South Carolina and Virginia. The CPL gives college players the chance to refine their skills with the use of wooden bats. Players are housed with local host families for the summer and past experiences have been very positive for both players and hosts. Furthermore, the CPL has had over 1,000 alumni drafted and 59 alums – including 2011 AL MVP and Cy Young winner Justin Verlander – make their Major League debut thus far. For more information on the Coastal Plain League, please visit the league website at www.coastalplain.com, and be sure to friend us on Facebook (at www.facebook.com/coastalplainleague) and follow us via Twitter (as cplbaseball).
Contact:
Chip Pruden
Phone:
(252) 482-4080