Updated March 04 2013
Copperheads Add Five To Roster
ASHEBORO, N.C.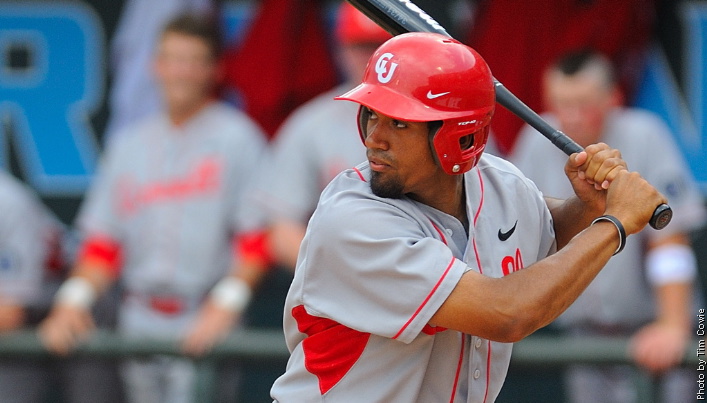 Four players with impressive offensive credentials and a catcher known for his excellent defensive skills and strong leadership qualities have made commitments to spend the summer with the Asheboro Copperheads.
Joining the Copperheads for the 2013 Coastal Plain League season will be outfielders Chris Cruz of Cornell (picture courtesy of Tim Cowie and Cornell Sports Information) and Kenny Jackson of Hofstra, plus first baseman Colin Bennett of Walters State (JUCO) and corner infielder-outfielder Ryan Karl, who is playing a JUCO season at Catawba Valley CC but is headed to Cornell next fall. Also ticketed to Asheboro is catcher Austin Bossart of Penn, who started all but one game for the Quakers as a freshman and was an honorable mention All-Ivy League selection.
Cruz is entering his junior season at Cornell having set the school's single-season home run mark for the Big Red as a sophomore. The 6-0, 195-pounder from Bay Shore, NY, belted 12 round trippers in 2012, including a dramatic walk-off shot that earned his team the Ivy League championship and an NCAA post-season berth. A second team All-Ivey League choice, the left-handed hitting Cruz also put up strong power-hitting numbers in the summer, belting eight homers for Mohawk Valley in the New York-based Perfect Game Collegiate League.
Jackson, who also swings from the left side, has hit .341 and .344 in two seasons at Hofstra. As a sophomore, his .344 average included four home runs and 12 doubles, plus he drove in 51 runs. The 6-2, 195-pound New York native hit five home runs with Staunton (VA) of the Valley League last summer.
Bennett is a hulking 6-3, 230-pounder from Cartersville, GA, who hit .352 with eight home runs and 41 RBIs as a freshman at Walters State before missing the last week of the regular season and the post-season with a foot injury. Now fully recovered, he will hit cleanup for the JUCO Senators this spring and is being looked at by a number of high profile Division I schools.
Karl is a 6-3, 205-pound New Jersey native who originally signed with Louisville but sat on 2012 as a red shirt. He opted to play this spring at Catawba Valley in Hickory, but has already committed to Cornell for 2014. Karl put up spectacular high school numbers, hitting .536 as a senior and around .450 each of the two previous years. He belted three homers last summer for the Vermont Mountaineers of the New England League.
Bossart is a 6-2, 200-pound backstop from the St. Louis area who earned the reputation as the Ivy League's best defensive catcher as a freshman. He made only three errors all season and threw out nearly 40 percent of base runners trying to steal. Quaker head coach John Cole has spent nearly 30 years in the collegiate ranks and raves about his leadership skills. He calls Bossart "as good a young catcher as I've ever seen." He's also solid at the plate, hitting .276 last spring with only 13 strikeouts in 150 plate appearances. Last summer, he hit .342 with Licking County in the Great Lakes League.
"We're excited about signing five such high quality position players to go with the five position starters we have returning," said Copperheads General Manager David Camp. "All of these players bring some unique skills to the table that should help make us an exciting offensive team this summer. Cruz and Bennett are big time power hitters, while Jackson and Karl are more line drive hitters that we hope will hit for high averages. Bossart is a kid who will be a leader both on and off the field and should team with Matt Reistetter (returning catcher from Hofstra) to give us two of the best catchers in the CPL."
Along with Reistetter, the Copperheads earlier announced that outfielders Lucas Witt of Kentucky and Ford Wilson of Memphis, infielder-outfielder Luke Tendler of North Carolina A&T and shortstop Alex Tomasovich of Charleston Southern will all be returning this summer. The Copperheads will open the 2013 CPL season at home on Tuesday night, May 28 vs. the Martinsville Mustangs.
The Copperheads are a proud member of the Coastal Plain League, the nation's hottest summer collegiate baseball league. Celebrating its 17th season in 2013, the CPL features 14 teams playing in North Carolina, South Carolina and Virginia. The CPL gives college players the chance to refine their skills with the use of wooden bats. Players are housed with local host families for the summer and past experiences have been very positive for both players and hosts. The CPL has had over 1,000 alumni drafted and 59 alums – including 2011 AL MVP and Cy Young winner Justin Verlander – make their Major League debut thus far. For more information on the Coastal Plain League, please visit the league website at www.coastalplain.com, and be sure to friend us on Facebook (at www.facebook.com/coastalplainleague) and follow us via Twitter (as CPLBaseball).
Contact:
David Camp
Phone:
(336) 460-7018