Updated August 17 2011
Cole Signs with the St. Louis Cardinals
EDENTON, N.C.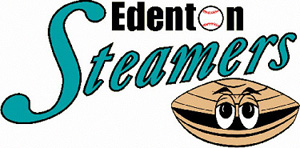 The Edenton Steamers of the Coastal Plain League announce today that their 2011 closer, Ethan Cole, has signed a free agent contract with the St. Louis Cardinals.

Cole, a 6-0, 185-pound redshirt-sophomore out of Northeast Texas Community College, finished Edenton's best regular season in their franchise history tied for the team lead in wins with a 5-1 record. He pitched 33.2 innings, allowing 25 hits and only eight earned runs. His 2.14 ERA was fourth best on the team for a reliever. He walked ten batters to striking out 35, while holding opposing hitters to a .208 batting average against and earning 11 saves.

Cole capped his stellar 2011 regular season with an even better playoff performance during the Steamers run to the Petitt Cup Championship series. The Austin, TX native made five appearances in the postseason, going 3-0 with one save and a 0.00 ERA. He pitched 15.1 scoreless innings for the Steamers, allowing six hits, two walks and he struck out 12. Cole held opposing hitters to a .125 postseason batting average against.

After signing with St. Louis, Cole will begin his professional career with the Batavia MuckDogs of the New York-Penn League. Batavia is the class A short season affiliate of the Cardinals.

The Edenton Steamers compete during the summer at Historic Hicks Field in downtown Historic Edenton, North Carolina. Currently in its 15th season, the Coastal Plain League features 15 teams playing in North Carolina, South Carolina and Virginia. The CPL gives college players the chance to refine their skills with wooden bats. Players are housed with local host families for the summer and past experiences have been very positive for both players and hosts. The CPL has had over 930 alumni drafted and 46 alums have made their Major League debut thus far. For more information on the Coastal Plain League, please visit the league Web site at http://www.coastalplain.com. For more information on the Edenton Steamers, please visit the team website at http://www.edentonsteamers.com.
Contact:
Phone: