Umpire Alumni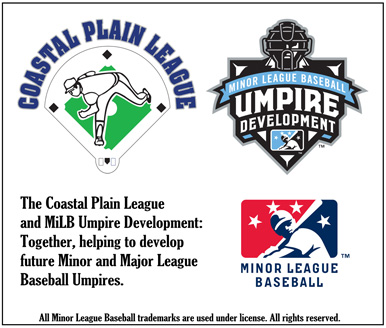 Minor League Baseball Umpire Development, formerly known as Professional Baseball Umpire Corp (PBUC), a Minor League Baseball wholly owned subsidiary, first entered into a working agreement to provide its reserve umpires to the Coastal Plain League beginning in 2008. The agreement allows reserve list umpires to continue to develop their skills in a competitive environment, while waiting for the call from MiLB Umpire Development to work Minor League Baseball games. Prior to the start of the 2010 CPL season, the Coastal Plain League and MiLB Umpire Development extended its agreement through the 2016 CPL season.
"This is the first of its kind agreement and we are pleased to be working with the CPL in this capacity," stated then-PBUC Executive Director Justin Klemm in 2008. "Future PBUC umpires will benefit greatly from gaining valuable experience in a Minor League-like setting, while performing umpiring duties for collegiate all-stars also looking to showcase their skills. Our evaluators will be out in force to ensure these individuals are receiving proper training as they continue on the path of becoming professional umpires."
"PBUC is excited to have the opportunity to continue our successful relationship with the Coastal Plain League," Klemm went on to say in 2010. "For the past three years we have experienced many benefits from our agreement. We have hired a higher quality umpire who is better prepared for the rigors of a professional baseball umpiring career. We look forward to working with the CPL staff to further the development of those umpires who take advantage of the experience that the Coastal Plain League and PBUC offer."
Klemm was promoted as Director of Instant Replay for Major League Baseball in February of 2014. Dusty Dellinger, who had been a full-time Field Evaluator/Instructor for PBUC, was named the new Director of PBUC in December of 2014 after serving as interim Director after Klemm departed. In March of 2015, Minor League Baseball announced the new name for its umpiring entity, switching from PBUC to MiLB Umpire Development.
"Our relationship with the Coastal Plain League has been extremely valuable to our organization in the sense that we can have our next available professional umpires working in an environment in the CPL that is very comparable to what they will face in pro ball," said Dellinger. "The experience the CPL provides our umpires can't be matched and we hope that our relationship continues for years to come."
Since 2008, 144 PBUC reserve umpires have gotten their start in the Coastal Plain League, with an impressive 106 of them moving on since to work games in Minor League Baseball. Furthermore, Nic Lentz became the first former CPL umpire to make it to the Major Leagues on April 20, 2016. Lentz served as the first base umpire during the Washington Nationals and Miami Marlins game along side home plate umpire Hunter Wendelstedt, second base Umpire Scott Barry, and third base umpire Tripp Gibson.
"We have enjoyed working with Dusty and his staff at Minor League Baseball Umpire Development, as well as the numerous reserve umpires that have come through the Coastal Plain League during our partnership," said CPL Commissioner Justin Sellers. "We feel that our quality of play and overall atmosphere has gone a long way in helping the development of future Minor and Major League Baseball umpires. The number of alumni that have gone on from the CPL into umpiring in professional Baseball is strong proof that our relationship has been beneficial to both parties."
MiLB Umpire Development is responsible for the training, evaluation and recommendation for promotion, retention or release of all umpires in the Minor League Baseball system throughout the United States and Canada.
Below is the listing of MiLB Umpire Development reserve umpires that have come through the Coastal Plain League on their way to professional baseball, and their current status:
* - Denotes umpire who was called to work in Minor League Baseball but later retired.
Coastal Plain League MiLB Umpire Development Umpire Alumni in Major League Baseball

| Umpire | CPL Year(s) | Current Status | MLB Debut |
| --- | --- | --- | --- |
| Nicolas Lentz | 2008 | Major League Baseball | April 20, 2016 |
Coastal Plain League MiLB Umpire Development Umpire Alumni in Minor League Baseball: Triple-A

| Umpire | CPL Year(s) | Current Status |
| --- | --- | --- |
| Mike Cascioppo | 2009 | Pacific Coast League (AAA) |
| John Bacon | 2008 | International League (AAA) |
| John Bostwick | 2008 | Pacific Coast League (AAA) |
| Ryan Clark | 2009 | International League (AAA) |
| Blake Felix | 2008 | Pacific Coast League (AAA) |
| Bryan Fields | 2008 | Pacific Coast League (AAA) |
| Chris Gonzalez | 2009 | Pacific Coast League (AAA) |
| Shane Livensparger | 2009 | International League (AAA) |
| Matt McCoy | 2008 | International League (AAA) |
| Daniel Merzel | 2010 | International League (AAA) |
| Derek Mollica | 2008 | International League (AAA) |
| Roberto Ortiz | 2009 | International League (AAA) |
| James Rackley | 2010 | International League (AAA) |
| Jeremy Riggs | 2009 | International League (AAA) |
| Nate White | 2009 | Pacific Coast League (AAA) |
| Shaun Lampe | 2008 | Retired (Highest Level: AAA) |
Coastal Plain League MiLB Umpire Development Umpire Alumni in Minor League Baseball: Double-A

| Umpire | CPL Year(s) | Current Status |
| --- | --- | --- |
| Sean Allen | 2010 | Texas League (AA) |
| Erich Bacchus | 2012 | Eastern League (AA) |
| Ryan Benson | 2010 | Eastern League (AA) |
| Joe George | 2011 | Southern League (AA) |
| Richard Riley | 2011-12 | Eastern League (AA) |
| Randy Rosenberg | 2011 | Eastern League (AA) |
| Jason Starkovich | 2011 | Southern League (AA) |
| Nate Tomlinson | 2010-11 | Texas League (AA) |
| Ben Guttenberger* | 2010 | Retired (Highest level: AA) |
| Ramon Hernandez* | 2009 | Retired (Highest level: AA) |
| Kiff Kinkead* | 2008 | Retired (Highest level: AA) |
| Ben Leake* | 2008-09 | Retired (Highest level: AA) |
| David Marcoe* | 2010 | Retired (Highest level: AA) |
| Justin McPherson* | 2010 | Retired (Highest level: AA) |
| Brian Miller* | 2010 | Retired (Highest level: AA) |
| Matt Springer* | 2008 | Retired (Highest level: AA) |
Coastal Plain League MiLB Umpire Development Umpire Alumni in Minor League Baseball: Single-A

| Umpire | CPL Year(s) | Current Status |
| --- | --- | --- |
| Justin Anderson | 2013 | South Atlantic League (A) |
| Brock Ballou | 2012 | Carolina League (Advanced-A) |
| Ryan Barneycastle | 2014 | South Atlantic League (A) |
| Matt Carlyon | 2013 | South Atlantic League (A) |
| Adrian Gonzalez | 2012 | California League (A-Advanced) |
| Vincent Jackson | 2014 | Midwest League (A) |
| Jordan Johnson | 2013 | Florida State League (A-Advanced) |
| Austin Jones | 2014 | Midwest League (A) |
| Reid Joyner | 2012 | Florida State League (A-Advanced) |
| Jose Matamoros | 2014 | Midwest League (A) |
| Ryan Powers | 2013 | South Atlantic League (A) |
| Darrell Roberts | 2014 | South Atlantic League (A) |
| Greg Roemer | 2013-14 | Midwest League (A) |
| Brandin Sheeler | 2013 | Midwest League (A) |
| Matt Snodgrass | 2013 | Florida State League (A-Advanced) |
| Dave Albertson* | 2013 | Retired (Highest level: A-Short) |
| Jeffrey Andrews* | 2009-10 | Retired (Highest level: A-Advanced) |
| Evan Barger* | 2011 | Retired (Highest level: A) |
| Nick Bayer* | 2010 | Retired (Highest level: A-Short) |
| Ryan Bealo* | 2009 | Retired (Highest level: A) |
| Tucker Beneville* | 2012 | Retired (Highest level: A-Advanced) |
| Jeff Bottoms* | 2010 | Retired (Highest level: A-Short) |
| Nathan Caldwell* | 2012 | Retired (Highest level: A) |
| Andrew Chesnut* | 2012 | Retired (Highest level: A-Advanced) |
| Charlie Clemons* | 2010 | Retired (Highest level: A-Short) |
| TJ Cunningham* | 2009-10 | Retired (Highest level: A-Short) |
| Tyler Curlis* | 2010 | Retired (Highest level: A-Advanced) |
| Matthew Deane* | 2008 | Retired (Highest level: A-Advanced) |
| John Durante* | 2014 | Retired (Highest level: A-Short) |
| Andrew Freed* | 2011 | Retired (Highest level: A-Advanced) |
| Asa Gaddy* | 2008 | Retired (Highest level: A-Advanced) |
| Nick Garvey* | 2011 | Retired (Highest level: A-Advanced) |
| Martin Gerich* | 2010-11 | Retired (Highest level: A-Short) |
| Richard Gonzalez* | 2008 | Retired (Highest level: A-Advanced) |
| Troy Gorra* | 2011 | Retired (Highest level: A-Short) |
| Shane Hardy* | 2013 | Retired (Highest level: A-Short) |
| Matt Heersema* | 2009 | Retired (Highest level: A-Advanced) |
| Rene Hilbach-Barger* | 2009 | Retired (Highest level: A-Short) |
| Ben Hughes* | 2010 | Retired (Highest level: A-Short) |
| Mike Huus* | 2010 | Retired (Highest level: A-Advanced) |
| Tyler Jones* | 2014 | Retired (Highest level: A-Short) |
| Dustin Klinghagen* | 2009 | Retired (Highest level: A) |
| Ed Leopold* | 2008 | Retired (Highest level: A-Short) |
| Jimmy Lott* | 2011 | Retired (Highest level: A) |
| Josh Marshall* | 2013 | Retired (Highest level: A) |
| Corey Mattea* | 2009 | Retired (Highest level: A-Short) |
| Brian McCoy* | 2008 | Retired (Highest level: A-Short) |
| Matt Moore* | 2010-11 | Retired (Highest level: A-Short) |
| Mitchell Morgan* | 2010 | Retired (Highest level: A-Short) |
| Joseph Muenzer* | 2008 | Retired (Highest level: A-Short) |
| Matt Mullins* | 2008 | Retired (Highest level: A) |
| Nick Painz* | 2009 | Retired (Highest level: A-Short) |
| Brad Polk* | 2011-12 | Retired (Highest level: A) |
| Rob Porter* | 2009 | Retired (Highest level: A-Short) |
| Justin Phillips* | 2014 | Retired (Highest level: A-Short) |
| Farris Pierson* | 2011 | Retired (Highest level: A) |
| Mitch Quandt* | 2009 | Retired (Highest level: A-Short) |
| Dane Ratajski* | 2009 | Retired (Highest level: A) |
| Aaron Reynolds* | 2009 | Retired (Highest level: A) |
| Jose Rivera* | 2008 | Retired (Highest level: A-Advanced) |
| Fernando Rodgriguez* | 2010 | Retired (Highest level: A-Advanced) |
| Josh Root* | 2011-12 | Retired (Highest level: A) |
| Patrick Sampsell* | 2009 | Retired (Highest level: A-Short) |
| Joe Schwartz* | 2014 | Retired (Highest level: A-Short) |
| John Silva* | 2009 | Retired (Highest level: A) |
| Robert Veloz* | 2013 | Retired (Highest level: A-Short) |
| Sam Vogt* | 2011 | Retired (Highest level: A-Advanced) |
| Cody Waterhouse* | 2012 | Retired (Highest level: A) |
| Cameron Westover* | 2011-12 | Retired (Highest level: A) |
| Chris Wood* | 2013 | Retired (Highest level: A-Short) |
| Jeff Woods* | 2008 | Retired (Highest Level: A-Advanced) |
| Tyler Wolpert* | 2008 | Retired (Highest level: A-Short) |
Coastal Plain League MiLB Umpire Development Umpire Alumni in Minor League Baseball: Rookie

| Umpire | CPL Year(s) | Current Status |
| --- | --- | --- |
| Geoff Arnold* | 2011 | Retired (Highest level: Rookie) |
| Connor Culhane | 2015 | Gulf Coast League (Rookie) |
| James Folske | 2014-15 | Arizona League (Rookie) |
| Grant Hinson | 2015 | Gulf Coast League (Rookie) |
| Jesse Gonzalez* | 2012-13 | Retired (Highest level: Rookie) |
| Mike O'Leary* | 2010 | Retired (Highest level: Rookie) |
| Michael Rains* | 2014 | Retired (Highest level: Rookie) |
| Nick Susie* | 2014 | Retired (Highest level: Rookie) |
| Ryan Thacker* | 2010 | Retired (Highest level: Rookie) |
| Taylor Treloar* | 2009 | Retired (Highest level: Rookie) |
| Russ Weich* | 2013 | Retired (Highest level: Rookie) |
Coastal Plain League MiLB Umpire Development Umpire Alumni - CPL

| Umpire | CPL Year(s) | Current Status |
| --- | --- | --- |
| Justin Amit | 2011-12 | Retired |
| Josh Armstrong | 2011 | Retired |
| Matthew Ball | 2014 | Retired |
| Doug Becker | 2013 | Retired |
| Jamiel Benjamin | 2009 | Retired |
| John Budka, Jr. | 2015 | Retired |
| Thomas Burrell | 2015 | Retired |
| Kelvis Velez Caminero | 2015 | Coastal Plain League |
| Bryan Childe | 2008 | Retired |
| Matthew Cowan | 2015 | Retired |
| Zach Dart | 2011 | Retired |
| Jesse Estrada | 2012 | Retired |
| Ryan Farnsworth | 2010 | Retired |
| David Frame | 2012 | Retired |
| William Glienke | 2014-15 | Coastal Plain League |
| Dave Hlavac | 2014 | Coastal Plain League |
| Drew Holby | 2008 | Retired |
| Brad Kayholm | 2010 | Coastal Plain League |
| Tim Kreamer | 2014 | Coastal Plain League |
| Wyatt Lee | 2012 | Coastal Plain League |
| Cameron Liffick | 2015 | Coastal Plain League |
| Robert Lothian* | 2009 | Retired |
| Ian Manlove | 2013 | Coastal Plain League |
| Juan Carlos Martinez-Gonzalez | 2015 | Coastal Plain League |
| Mike Mazza | 2011 | Coastal Plain League |
| Rob McHugh | 2014-15 | Coastal Plain League |
| Joe Merchak | 2013 | Coastal Plain League |
| Scott Molloy | 2015 | Coastal Plain League |
| Kyle Nichol | 2015 | Coastal Plain League |
| George Reidel | 2012 | Retired |
| Will Robinson | 2015 | Coastal Plain League |
| Clayton Simmons | 2013-14 | Coastal Plain League |
| Matthew Smith | 2014 | Coastal Plain League |
| Cameron Swallen | 2010 | Coastal Plain League |
| Nick Thul | 2012 | Coastal Plain League |
| Tim Towe | 2013-14 | Coastal Plain League |
| Kyle Wagner | 2011-12 | Coastal Plain League |
| Jim Wells | 2011 | Coastal Plain League |
| Chance Wilcott | 2012 | Coastal Plain League |
| Cameron Young | 2012 | Coastal Plain League |