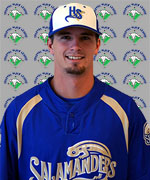 Dillon Stewart (Jr., UNC-Greensboro) Holly Springs
Stewart finished an impressive season for the Salamanders on a tear in week ten, batting .469 over seven games played. Across those games the CPL All-Star notched 15 total hits with two doubles, one triple, three home runs for eight RBIs and 28 total bases, pushing his slugging percentage to .875. The outfielder also drew one walk and stole a base on his way to a .485 on-base percentage and five runs scored.
Daniel Poidomani (Fr., Stevens Institute of Tech) Forest City
On the mound, Poidomani was a workhorse for the Owls making three appearances on the week as the team fought for their playoff lives. The left-hander held a perfect 0.00 ERA on the week allowing only five hits over 13 total innings while striking out 14 for a .119 opponent's batting average. His most impressive performance on the week came in his start on August 8 versus Asheboro as he tossed eight shutout innings allowing only two hits and striking out ten.