Updated January 21 2013
Wilson Added to NFC Pro Bowl Roster
HOLLY SPRINGS, N.C.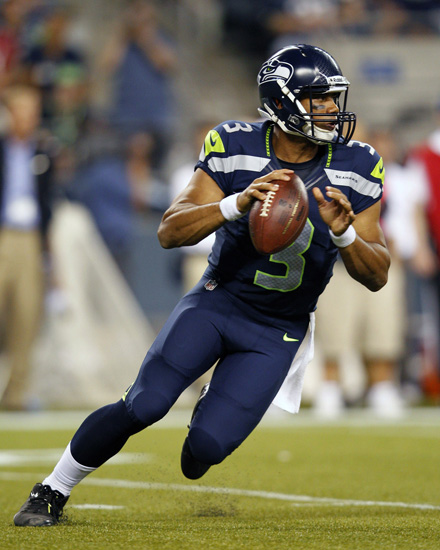 After an outstanding rookie campaign, Coastal Plain League alum Russell Wilson (photo courtesy of the Seattle Seahawks) has been added to the NFC roster for the NFL Pro Bowl after Atlanta's Matt Ryan withdrew due to an injury he suffered in Sunday's NFC Championship loss to San Francisco.
The NFL Pro Bowl will air on NBC this Sunday (Jan. 27) at 7 p.m. from Aloha Stadium in Honolulu, Hawaii.
Wilson proved the naysayers wrong earning the starting job after a successful preseason. In four preseason games - including two starts - Wilson completed 40-of-63 passes for 536 yards and five touchdowns, while also rushing 10 times for 150 yards and a score. As impressive as that sounds, the 5-11, 206-pound Wilson went on to throw for 3,118 yards and tied the NFL rookie record with 26 passing touchdowns in the regular season. Wilson led the Seahawks to an 11-5 record during the regular season and to the franchise's first road playoff victory since 1983 when they beat the Redskins in a wild-card game. He also broke the mark for rookie passer rating (100.0) and was second on the team with 489 yards rushing and four scores.
In late-April, Wilson made CPL history when he became the first Coastal Plain League alum to ever be drafted in the NFL Draft. Wilson, who played the 2009 summer with the Gastonia Grizzlies, went in the third round - 75th pick overall - to Seattle.
The NC State star in both football and baseball was a fourth round draft pick of the Colorado Rockies in 2010. He played 93 games between Low-A Tri-City and Single-A Asheville, batting .229 with 26 RBIs and 58 runs scored. Wilson decided he wanted to try to make the NFL as well, and cut his pro baseball career short to hit the football field once again. After transferring to Wisconsin, Wilson became a captain and the starting quarterback. Throwing for 3,175 yards and 33 touchdowns, Wilson also rushed for another 338 yards and six scores on the ground. He led the Badgers to a Big Ten Championship and a trip to the Rose Bowl.
While with the Grizzlies, Wilson started 24-of-25 games, and finished batting .205 with three RBIs and 14 runs scored. He also had three doubles, was walked 11 times and stole 12 bases.
The Coastal Plain League is the nation's hottest summer collegiate baseball league. Celebrating its 17th season in 2013, the CPL features 14 teams playing in North Carolina, South Carolina and Virginia. The CPL gives college players the chance to refine their skills with the use of wooden bats. Players are housed with local host families for the summer and past experiences have been very positive for both players and hosts. Furthermore, the CPL has had over 1,000 alumni drafted and 57 alums – including 2011 AL MVP and Cy Young winner Justin Verlander – make their Major League debut thus far. For more information on the Coastal Plain League, please visit the league website at www.coastalplain.com, and be sure to friend us on Facebook (at www.facebook.com/coastalplainleague) and follow us via Twitter (as CPLBaseball).
Contact:
Justin Sellers
Phone:
(919) 852-1960