Updated July 11 2012
Former Owls Pitcher, Edgin, Debuts with Mets
HOLLY SPRINGS, N.C.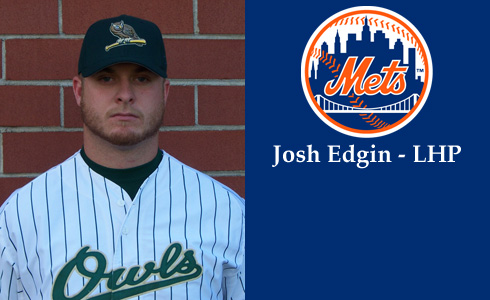 Former Forest City Owls pitcher Josh Edgin joined the New York Mets (courtesy of MLB Pressbox.com) from Triple-A Buffalo on Friday, July 13, replacing Dillon Gee on the active roster.
Edgin entered in the bottom of the fifth inning of the Mets game at Atlanta. He pitched 1 1/3 innings, surrendering two runs - both earned - on two hits, while striking out three.
Edgin, who is the first-ever Owls player to make his major league debut, called Forest City home during the 2008 and 2009 Coastal Plain League summers. Although he is the first Owl to be called up, he is the third player in franchise history (Steven Tolleson and Jerry Sands being the other two) to reach the majors. The Spartanburg Stingers relocated to Forest City before the 2008 summer season.

During the 2008 season, Edgin held a 2-6 record with an ERA of 4.26 through 50.2 innings of work. The Owls saw vast improvement during the 2009 season as the lefty from Francis Marion posted a 6-3 record with an ERA of 3.46 to go along with 61 strikeouts in 67.2 innings. Edgin played a key role in the Owls historic season as they went on to earn a 51-9 record while earning the Coastal Plain League's Petitt Cup Championship, while also being crowned National Champions by Perfect Game Crosschecker.

With his debut, Edgin becomes the 53rd CPL alum to become a Major Leaguer. Even more impressive is the former Owl becomes the fifth league alum to debut in the 2012 season alone. The New York Mets selected Edgin in the 30th round of the 2010 First Year Player Draft.

So far this season, Edgin holds a 3-2 record with a 3.89 ERA while racking up 40 strikeouts in only 37 innings of work with the Bisons. After being drafted in 2010, Edgin got his start in Kingsport and Savannah where he earned a 0-1 record with a 2.60 ERA as well as 46 strikeouts in only 34.2 innings on the mound. The lefty out of Francis Marion continued to work his way through the ranks with an impressive 2011 season with Single-A Savannah and Advanced-A St. Lucie where he posted a 3-1 record with a minimal 1.50 ERA. He worked 66 innings that year racking up 76 strikeouts and only allowed 11 earned runs.
The Coastal Plain League is the nation's hottest summer collegiate baseball league. Celebrating its 16th season in 2012, the CPL features 14 teams playing in North Carolina, South Carolina and Virginia. The CPL gives college players the chance to refine their skills with the use of wooden bats. Players are housed with local host families for the summer and past experiences have been very positive for both players and hosts. Furthermore, the CPL has had over 1,000 alumni drafted and 53 alums – including 2011 AL MVP and Cy Young winner Justin Verlander – make their Major League debut thus far. For more information on the Coastal Plain League, please visit the league website at www.coastalplain.com, and be sure to friend us on Facebook (at www.facebook.com/coastalplainleague) and follow us via Twitter (as cpleague).
Contact:
William Blackley
Phone:
(919) 852-1960