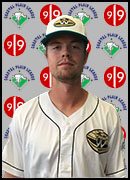 Nick Rotola (Oral Roberts) Wilmington
The league's current batting average leader, Rotola has been a force all season long for the Sharks but especially so in week four. The junior out of Oral Roberts notched 11 hits on the week, including two doubles for a .440 batting average in six games started. Batting leadoff for the Sharks, Rotola played the part of catalyst scoring six runs and going a perfect five for five on stolen bases to push his season total to 20, good for second in the league overall.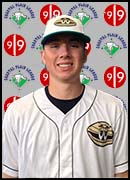 Sam Mersing (Pittsburgh) Holly Springs
On the mound, Sam Mersing completed a masterful performance for the Salamanders on June 18 striking out nine over 6 1/3 strong innings without allowing a run. The sophomore out of Pittsburgh gave up only one hit and two walks for an opponents' batting average of .050 and WHIP of .474. His efforts helped the Salamanders finish off a 4-0 shutout over the Wilson Tobs and finish the week in fourth place in the East Division race.